Office of Safety, Health & Environment
Procurement and Inventory Management of Hazardous Materials in Laboratories

The NUS Laboratory Materials Management System (LMMS) was developed in 2016 to enhance the management of regulated chemicals. Introduced to laboratory-based departments in phases, the campus-wide implementation of the LMMS was completed in Q4 2018.
The LMMS serves as an electronic inventory management tool that provides a real-time overview of chemicals that are in possession by the respective laboratories. It also ensures that the regulated chemical stocks are within licensed quantities. LMMS is mobile-enabled and will allow authorised personnel to have quick access to inventory records in emergency response situations on mobile devices.
To provide a seamless integration of procurement with the inventory management system, the Laboratory Materials Purchase Requisition System (LMPRS) was introduced in 2019. Chemicals purchased through LMPRS are directly inventorised into the Principal Investigator's account in LMMS.
With reference to Directive 1902: Requirements on Procurement and Inventory of Chemicals, all chemicals shall be procured using LMPRS. Procurement and inventory management modules for biologics and radioisotopes will be included in LMPRS and LMMS in the future.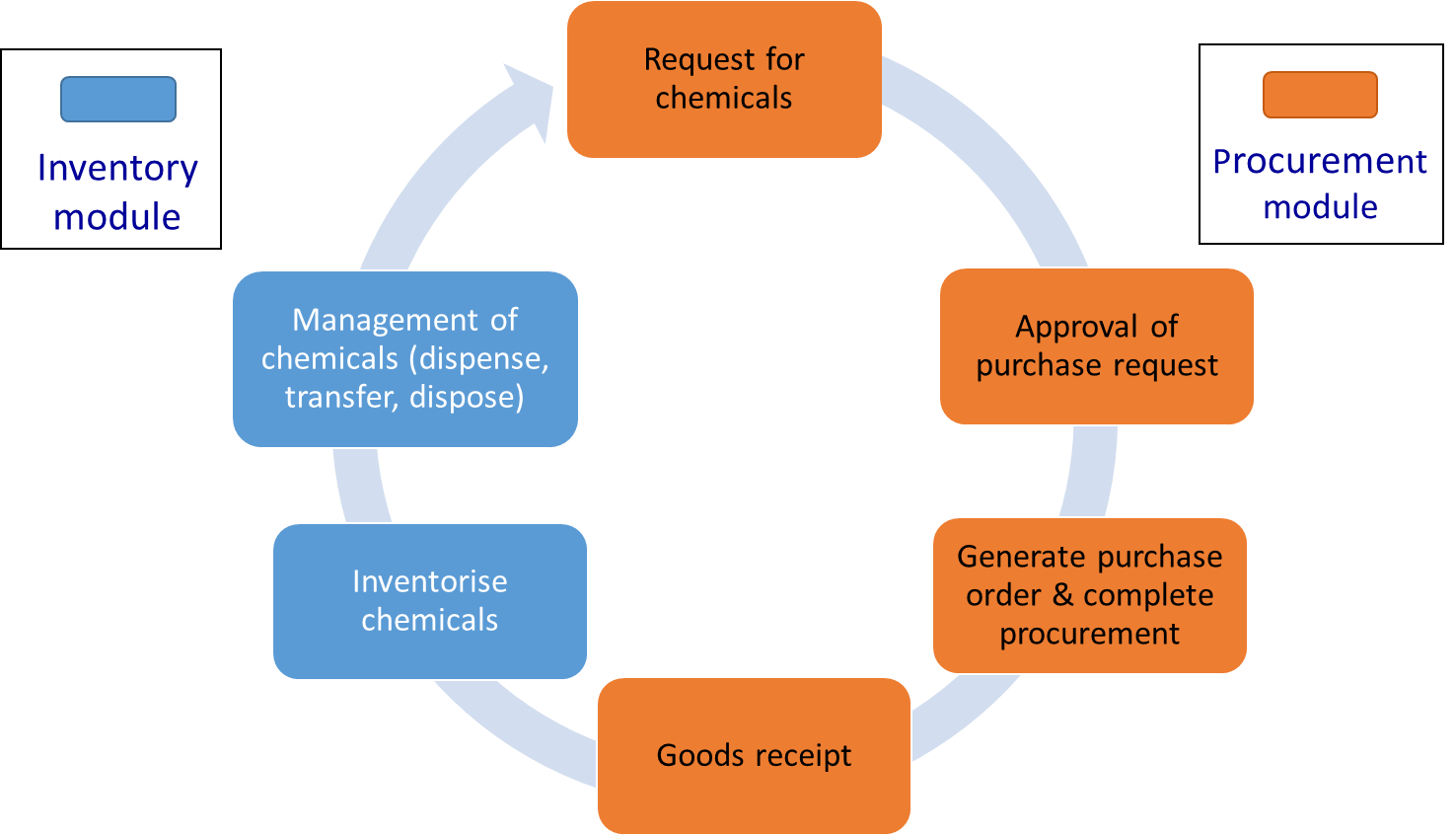 Diagram: Overview of chemical procurement and inventory management process in LMMS and LMPRS
User Guides
| | | |
| --- | --- | --- |
| System | System Owner | Download link |
| Laboratory Materials Management System (LMMS) | Office of the Deputy President (Research & Technology) | LMMS User Guide |
| Laboratory Materials Purchase Requisition System (LMPRS) | Central Procurement Office | LMPRS User Guide |
FAQs
LMMS Chemical Inventory Module FAQ
FAQ
FAQ covers topics such as LMMS User Access, inventory management functions, barcode scanners and labels
Exempted Items
The use of LMPRS is exempted for the purchases of the following items: (These items can still be purchased via LMPRS but it is not mandatory to do so.)
S/N
Products
Examples
1
Items relating to molecular biology/ genetic modification
a. Oligonucleotides, primers, restriction enzymes
b. Antibodies (monoclonal/polyclonal/recombinant)
c. Vectors, plasmids
d. Culture media, Buffer solutions
e. Molecular assay kits
2
Materials used for filter and chromatographic purification
a. Silica gel, zeolite and molecular sieves
3
Liquid nitrogen


4
Dry ice


5
Gas cylinders (with non-regulated chemical contents)
a. Nitrogen
b. Argon
c. Helium
d. Carbon Dioxide
e. Compressed air
6
Over-the-counter products that are not controlled by regulators
a. Lubricant
b. Paints
c. Hand sanitisers, surface disinfectants
d. Over-the-counter medication, health supplements
Support
Please contact the following personnel pertaining to the use of LMMS and LMPRS:
Department
Type of Enquiries
Contact Person
Office of Safety, Health & Environment (OSHE)
1. Enquiries on LMMS:
   a. Data Configuration
Ms. Jayavani Karuppasamy
Safety and Health Manager
Email: oshjk@nus.edu.sg
Telephone: 6516 8802

Mr. Joel Swee Dao Wen
Senior Safety and Health Manager
Email: oshsdw@nus.edu.sg
Telephone: 6516 5725
Central Procurement Office (CPO)
1. Enquiries on LMPRS
2. Enquiries on procurement procedures
Ms. Michelle, Liu Zhenyu
Manager
Email: cpolzm@nus.edu.sg
Telephone: 6601 5525

Mr. Lim Eng Xiong
Manager
Email: cpolex@nus.edu.sg
Telephone: 6601 7430